Hi, Donkey here. Just making a tutorial for those who dont know how to make a edit of FM map or would like to make your own. Just read and follow. Lets get started.
Requirements:
HaCreator: [Google is your best friend, search it up]
A brain: -no download available-
After downloading HaCreator, please make sure that you have the original map wz named "GMS" And back up your original Map.wz files.
To back up, you right-click on map.wz, copy, and then find a safe place (usually desktop) then paste.
*NOTE*
Ctrl+C then Ctrl+V doesnt work. MUST RIGHT CLICK.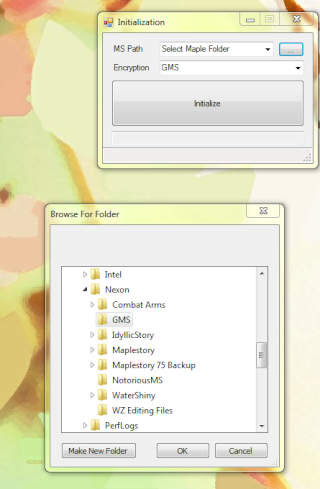 Click the button that says 'Initialize'.
Then you open the map of your choice.
The FM would be '910000000.img'
Then click 'Load'.
You'll see something like this.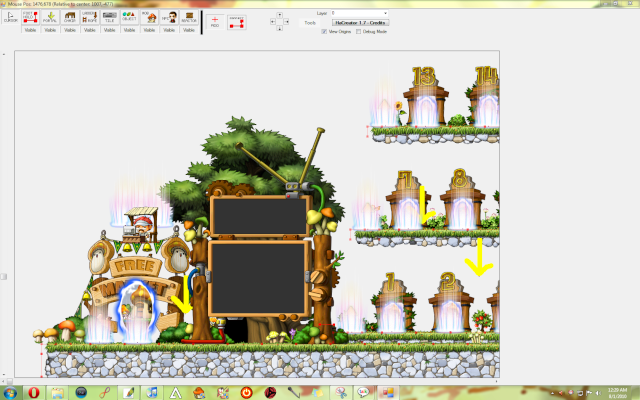 I don't plan on editing any portals, so under 'portals' click Visible to make them invisible.
Now, along the last of the buttons at the top of the program, above 'HaCreator 1.7 Credits' would be your layer select. Layer 0 would be your layer for scenery like flowers, trees and such. Layer 1 has everything on the top platform.

Going down from there, the layers contain platforms and the portals on it.
----
Now, to the tiles.
Layer one has no default tile, so you're free to set that to any that you like.
The other layers, you must delete the set platform with the original tiles before choosing your own tile, or you will get an error like...
For Objects, I'm too lazy to put a shortcut to shorten your search for specific items, so search them yourself please o;
-----
BTW, don't mess with the footholds too much, like clicking repetitively, or else it'll crash.
You can't edit an already edited Map.wz.
And in my opinion, KoolK is eaiser.
When saving, it'll look like its not responding, just give it a while and it'll save. e-o
-----
You're welcome if this actually helps.
Good luck.



מספר הודעות

: 38


Join date

: 2013-07-19



WOW THX DONKEY!
This will help SOOO much!

Admin




מספר הודעות

: 93


Join date

: 2013-07-19


Age

: 21


מיקום

: On your screen



Well,with this you can edit not only FM but the entire MS.
Anyway,nice tutorial.



מספר הודעות

: 41


Join date

: 2013-07-19


Age

: 22


מיקום

: Space



Thank you guise.
KubeR. Yes, but I prefer editing FM only with this!



מספר הודעות

: 38


Join date

: 2013-07-19




---
Permissions in this forum:
You
cannot
reply to topics in this forum